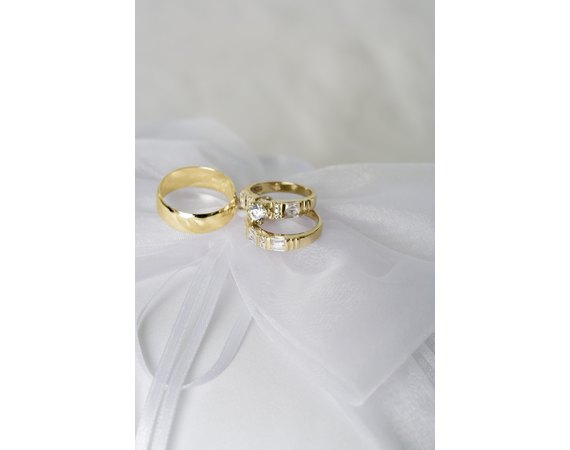 When you get married, not only do you gain a loving spouse, but you also gain a new piece of jewelry. Deciding the best way to wear your wedding and engagement rings together will help you wear them in comfort and style. There's no one correct way to wear your wedding and engagement ring, so your own preference is what's important.
Instructions
1 Wear both rings on your left ring finger. This is the traditional finger for wedding bands. However, if you work in a job where you can't wear rings on your hands, you might consider wearing your rings on a chain around your neck.
2 Place the wedding ring on your ring finger first, then slide on your engagement ring. Traditionally, the wedding ring is put on first so it is closest to your heart. Putting the engagement ring on last also makes it easier to remove it when getting your hands into something messy. However, if the engagement ring does not fit as well as the wedding band, you might consider putting the engagement ring on first to prevent it from slipping off.
3 Decide if you want to solder the two rings together. Soldering the wedding band to the engagement ring essentially turns two rings into one. It is fairly inexpensive to have done and it prevents the rings from twisting different directions while on your finger. This is especially helpful with wedding sets that are made to fit inside each other, such as solitaire enhancers or wraps.

---